Merzig blüht auf – Merzig in Bloom
Our city marketing spring programme
In the spring, the town council will be organising a range of events as part of our "Merzig in bloom" initiative.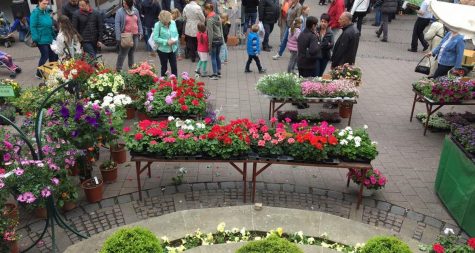 Blumenmarkt - Flower market
With its numerous stallholders, the flower market in Merzig offers a huge choice of flowers, green plants and everything that a beautiful home needs.
Tierparkfest - Zoo festival
The festival at the Blätterborn zoo is the perfect day out for all ages.
Saar Pedal
An incredible experience: The traffic-free day between Merzig and Konz provides a very varied programme of events.
Merziger Kindersommer - Merzig children's summer
The children's summer at the Villa Fuchs cultural centre is a popular festival for the town's youngest inhabitants.
More events and information

Many other events organised as part of the town marketing programme are listed in the Merzig events calendar.

The Merzig Marketing Department (Tel. 85-337, stadtmarketing@merzig.de) can also provide more information on "Merzig in bloom".